RFM DOUBLE DISCS
This RFM No-Till retrofit system is proving to revolutionise broadacre farming. It proves that you don't have to purchase an expensive disc planter, but can easily convert your existing planting tyne trip to dual purpose.
The RFM double disc design has a distinctive 15 degree angle that allows it cut through the toughest of stubbles. The serrated lead disc is 25mm in front of the following plain disc for easier penetration. The large 450mm x 4mm plates are recessed to handle the roughest of conditions and the discs are fitted with top grade tapered bearings to reduce downtime.
Reduced draft and drag means faster planting and less fuel usage
Higher moisture retention
Reinforced for heavy duty work
Single or double boot models
Better seed placement
15" and 18" disc diameters.
Optional double plain discs give reduced throw for pasture seeding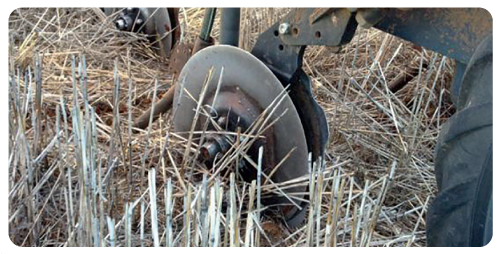 4mm disc combinations
Standard
18" serrated with 18" plain
Min. soil throw
Double 18" plain
Better penetration
18" plain with 15" plain
Low breakout
15" serrated with 15" plain
Stone and sand
6mm discs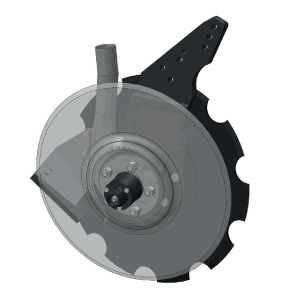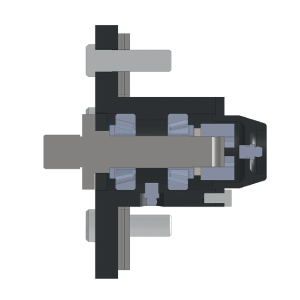 Hub cutaway with tapered bearings
RFM 90 series
RFM Airdrill Planters
Allan Johns tyne
Ausplow DBS
Bourgault 8810 series
Ezee On C Tyne models
Flexicoil 800
Flexicoil 820
Flexicoil ST820
Flexicoil 650 tyne
Gason Scaritill
Gason Cultimaster 5100
Gason Trashworker 3100
Gyral Penetrator
Gyral Agboss
Gyral Agtil

Gyral T220
Janke 400
Janke 2x1
Janke 3x1
Horwood Bagshaw Scaribar
Horwood Bagshaw Stubblemaster
Horwood Bagshaw PSS
Horwood Bagshaw Tillmaster
John Shearer 580
John Shearer 620
John Shearer Universal bar
John Shearer C tyne models

John Deere Chiselplow
John Deere 580
John Deere 620
Leon
Morris C tyne
Simplicity Allrounder
Simplicity Surestrike
Smale Multivator
Conservapack
AFM
Most chisel ploughs

More models
in development
MORE EFFICIENT MORE PRODUCTIVE MORE RETAINED MOISTURE
Avoid the cost of coulters
This is a superior system compared with a front coulter. The front coulter can build up mud and hairpin in heavy residue, so extra speed is limited.
The RFM Double Disc can regularly plant at between 20 – 30% higher speeds, depending on conditions. This system retains more moisture than a tyne coulter concept.
Seeding at 20 – 30% faster effectively makes your current planter 20 – 30% wider.
Combine this with up to 30% less fuel and your cropping program becomes more productive.
Reduced draft and the unique front boot sowing system enables you to plant much earlier than a tyne or tyne coulter system.
The offset 15 degree 18" disc enables planting into much harder conditioners than the traditional wedge design.