CRAIG BARDNEY, YENDA, NSW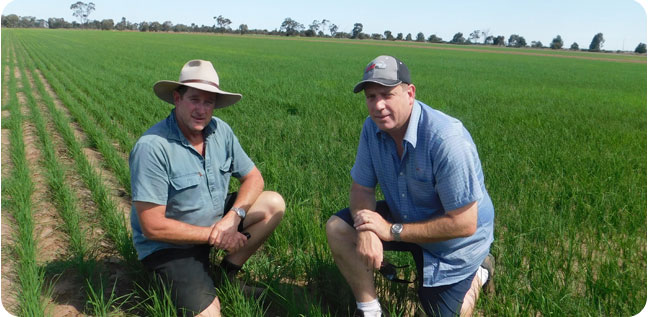 Craig Bardney (left) discussing his rice crop, six weeks after sowing
Craig Bardney, from Yenda,in the Riverina district just east of Griffith, heard about RFM discs more than ten years ago and liked the idea, but had never sowed with double discs, even though he had used triple discs in the past. His family has been growing rice here since the mid-1920's when Craig's grandfather took up a soldier settlement on return from the First World War.
He recently purchased a set of RFM double discs to use in his rice seeding in the last half of 2017 and was originally planning to put the tines back on for the sowing of the winter cereals.
Craig has a nine metre Horwood Bagshaw bar and air seeder with 43 rows of double discs, with 10" spacings and Flexicoil rubber press wheels. He pulls the set-up with a 340hp Case Magnum.
He believes that this spacing is the maximum he needs to go and if you space them at more than 10" it gives yield reduction.
He planted 220 hectares of rice in late October and has now decided to leave the discs on because of the performance.
"I bought the discs too late for the winter cereal planting", he said.
He has been employing different chemical strategies to combat certain weed resistance, which usually involved aerial sowing which can be an expensive exercise. He now has a completely different chemical with the discs and has found no resistance.
The property consists of red Yenda loam soil, with some sandier soil and one of the main reasons for converting to the RFM discs is that they provide a flatter finish to the paddocks, which was not possible with the tines.
"The level finish to the bays aids irrigation efficiency and it means that you don't use as much water to get it over the ridges left by the usual tines", Craig explained.
He aimed for a 20 to 30mm seed depth and the set-up even worked well at 12kph.
"8.7kph is ideal," he said, "We experienced better fuel consumption; 18 litres/hour compared with a usual 30 litres/hour with the tines."
Craig Bardney is impressed with the efficiency of the RFM double discs; "So far, so good –I really like them, eight or nine days after watering we are seeing excellent germination. We got accurate seed placing with the front boot. Depending on the seed variety we were sowing at 150 to 120 kg/ha., plus we were putting on 100kg/ha of fertiliser.
"All in all, the faster sowing speed, better fuel consumption and better germination so far, is an all-round good result."